June 11th, 2001- The day of the execution that sparked debate, rather sick cheers, and tears..all at the same time...The execution of "The Oklahoma City Bomber" was "justice served" for some, a day of tragedy for others, but nevertheless a dismal day in history...The execution of Timothy James McVeigh, patriot to some, villian to others, but still a son, brother, friend...and most of all, a HUMAN BEING....


Leave your thoughts and condolences on this tragic date here:




[
Sign my Guestbook] - [ HREF="http://www.TheGuestBook.com/vgbook/572034.gbook">Read my Guestbook
]

[Guestbook by HREF="http://www.TheGuestBook.com">TheGuestBook.com]




Please note that this guestbook is a place to leave condolences and thoughts to and/or about Tim and this tragic date in time. This is NOT a place for exchange of personal insults or arguments. Take that up privately, not in here. All messages of that nature will be deleted. Thank you.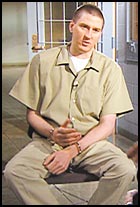 The Lyrics of Pain
.....Like a sunset
Dying with the rising of the moon
Gone too soon
Gone too soon...- (Excerpt from Michael Jackson's "Gone Too Soon") While some may disagree with my saying that Timothy McVeigh was "gone too soon", I stick by my statement..NO ONE should have to be killed in the way he was. The loss of another human being, adding the pain of their family/loved ones to the mix, only makes things even worse..
Time Does Not...
Time does not forget the pain of your departure from this Earth
With each anniversary of it, its sorrow gains a new birth
Time does not erase the memory of your face
Or when your death is mentioned, the tears that those who love you taste
Time does not ignore your message or your story
In fact, it still remains area for debative territory
Time does not leave you behind
While you are no longer here in person
You are always here in mind and rememberence
A figure of both fond memories and sadness
But for the happier memories, your loved ones can have gladness...